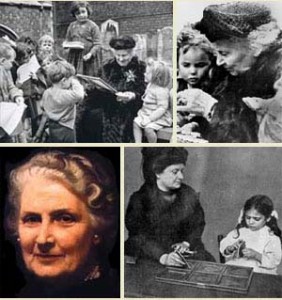 Montessori is a system of learning that produces students who are independent, self-directed, avid learners, who can collaborate and work well with others to be tomorrow's innovators in a diverse world.
Dr. Maria Montessori (1870-1952) was a pioneer in her day; ambitious at a very early age, she entered a technical institute to prepare for her career in engineering.  Through great perseverance, at a time when women generally did not enter the medical field, Maria Montessori went on to become one of Italy's first female physicians when she graduated medical school in 1896.
Dr. Montessori focused her practice on psychiatry, developing an interest in education.  Observing children led her to question the teaching methods of her day, particularly those methods used to instruct children with intellectual and developmental disabilities.
In 1907 Dr. Montessori opened a childcare center in an impoverished section of Rome where the children were left unattended and neglected while their parents went off to work.  Not only did she succeed in creating an environment where the children flourished, but her observations led to the development of a new teaching method based on the belief that, given the proper prepared environment, children readily absorb knowledge from their surroundings and essentially begin to teach themselves.
In her own words she discovered, Education is not something which the teacher does, but that it is a natural process which develops spontaneously in the human being.  It is not acquired by listening to words but in virtue of experiences in which the child acts in his environment.  The teacher's task is not to talk but to prepare and arrange a series of motives for cultural activity in a special environment made for the child.
A Look Inside the Montessori Classroom
The following video is provided by the American Montessori Society, and provides a quick glimpse into the Montessori classroom.  To get your front row view of a Sundance Montessori classroom, call today to schedule your tour!